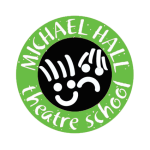 An active voice, like an active body, is a healthy one.  And, of course, with expert singing tuition can improve beyond recognition.
When a pupil first comes to singing lessons we assess how to take them forward in the best way. For some singers this can be done slowly over time, as they develop, with others it can be more immediate.  There are no hard and fast rules.
Group workshops Young singers (6 – 16yrs)
Workshops take place at weekends and throughout the week during term time and last one hour or 45 minutes according to age.
Private tuition  adults / audition preparation sessions by appointment.
Adult choir Monday evenings 7.30 – 9.30pm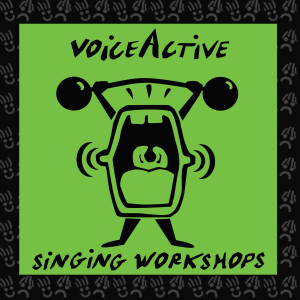 Voice Active workshops are small classes determined by age rather than experience.  In the intimate environment of a group lesson, the pupils are all heard as soloists and get the opportunity to work at their own pace and level.
Each class begins with a general vocal warm-up.  This not only gets the pupil's voice more flexible and ready for stronger singing, but also is designed to place the voice correctly to enhance its projection. The lesson then continues with an ensemble song followed by solos, depending on what performance the group is working on.  A fundamental of singing is the understanding of register (head and chest) which is developed by practical exercises in varied musical styles.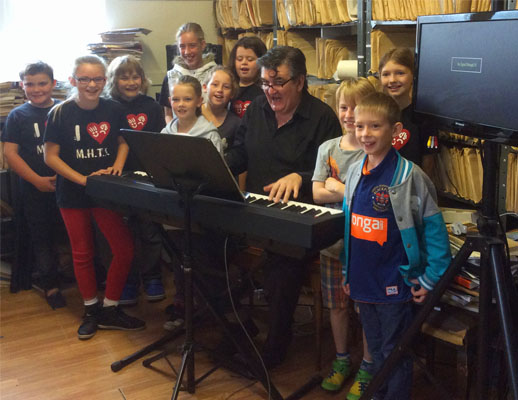 The study of harmony begins at the very early stages as it is an ability which improves vocal concentration, pitch and aural skills.  Group singing is in no way secondary to individual tuition as is proved by some pupils having gone on to careers in singing only having studied in group workshops.
The Michael Hall Theatre School is not only well known for the harmony used in local shows such as the (Hits) at the Opera House and shows on its own stage, but also in the professional shows it takes part in. Recent performances have used harmony ranging from simple 2 part songs to much more elaborate 5 and 6 part harmonies.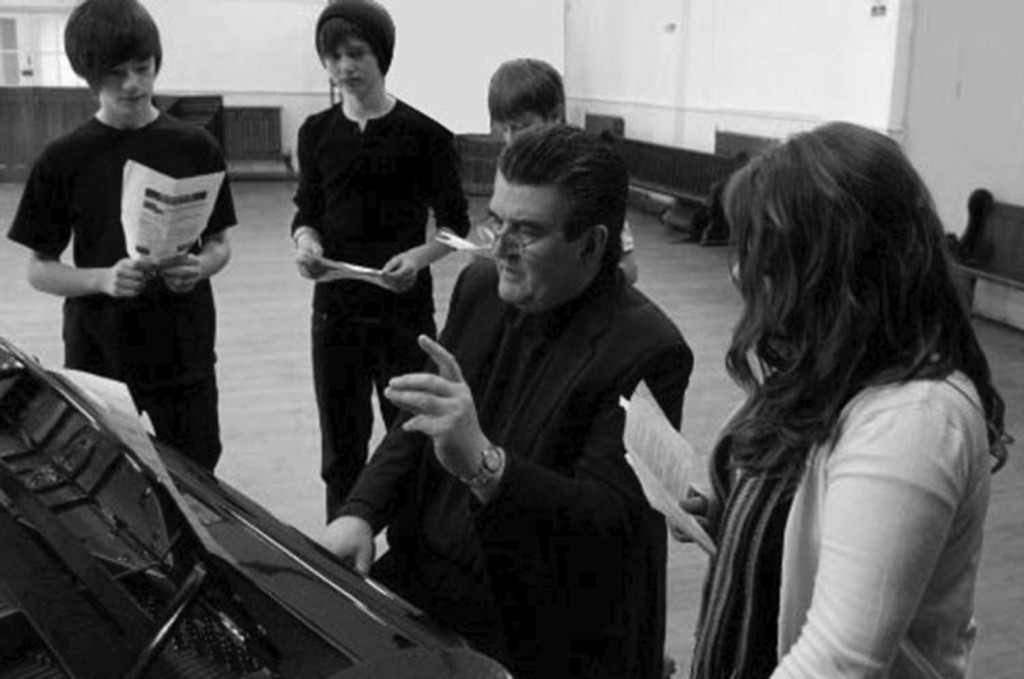 Providing the children for Joseph and the Amazing Technicolor Dreamcoat for professional productions at the Grand Theatre, the Opera House and Preston Charter Theatre is one of the most gratifying experiences in the life of a voice coach.
The experience it offers the children is the best in many ways. More of them have the opportunity to take part in Joseph than in any other professional show. The children are on stage for the entire production, longer than any of the adult cast. The singing is both tricky harmonically and requires extremely flexible voices with a large range. It is the finest experience of how a professional show is run.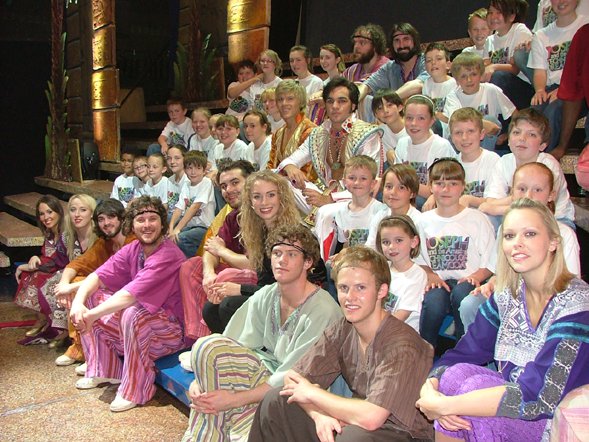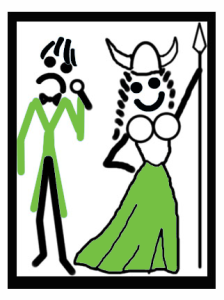 Singers may arrive singing in one particular style and gradually, with our help, develop competences in another style or into several. Others develop solely in the style they know and love. Our vocal coaches have no preference, they are there to offer support and guidance. One clear example of this is that singing musical theatre alone may not always give enough experience to fulfil all the vocal demands of musical theatre itself. They may have to gain experience outside the genre in order to cope with its difficulties.
Although it is a fact of modern musical life, too much singing today is accompanied by backing tracks.  Here at the Michael Hall Theatre School we try to perform as much as possible with live backing.  This can sometimes be with piano, at other times with a small band and sometimes with a full orchestra. We are committed to performing as much musical theatre and concerts as we can with full orchestra.  Musicals performed with a band have included Bugsy Malone (twice) and Annie.  Those musicals performed with full orchestra have included Oliver!, Calamity Jane, Mack and Mabel, etc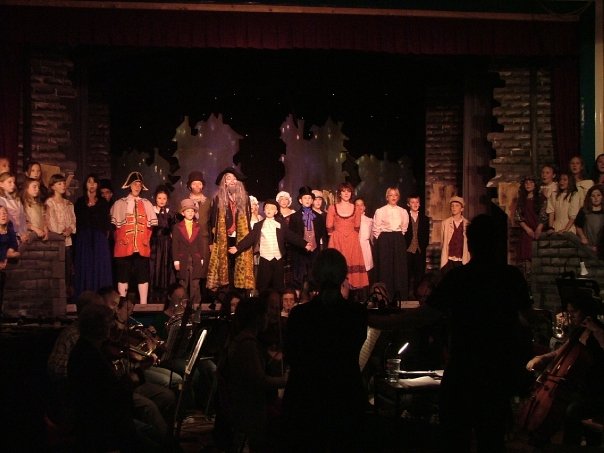 For those interested in classical singing Michael Hall Theatre School offers ABRSM exams, and with our sister company, Musica Lirica, we present a platform for young singers and seasoned performers alike. Mozart's The Magic Flute offers not only terrifically difficult singing for adults, but also brilliant opportunities for younger singers. Mikayla Alcock, Katie Donelli- Hunn and Sheona Brown are seen here playing the three child spirits in our 2012 production.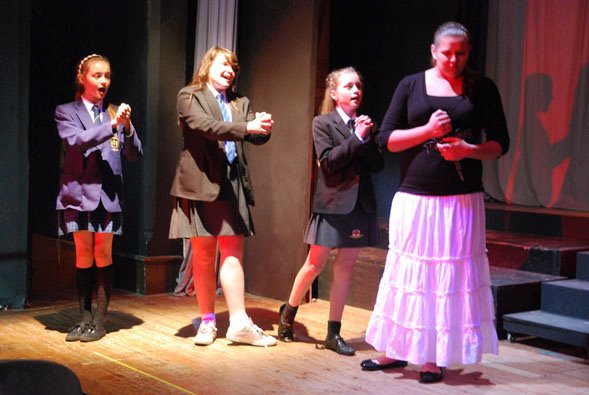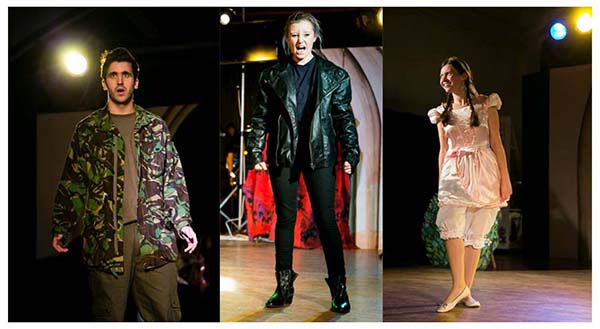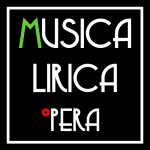 We have a regular adult choir which doubles as an opera chorus when the need arises.  In the past we have performed choral works such as The Messiah, The Creation, Faure's Requiem, Vaughn Williams' Serenade to Music, etc.  Our opera company has performed Mozart full works such as Bastien and Bastienne, The Marriage of Figaro and The Magic Flute as well as reduced performances of Cosi fan tutte and Don Giovanni in an hour with Blackpool Symphony Orchestra.  In addition our younger cast performed Purcell's Dido and Aeneas along with a revival of Bastien, seen above.  Puccini is a perennial favourite of audiences and performers alike and we have performed the whole of The Triptych on separate evenings (Il Tabarro, Sister Angelica and Gianni Schicchi).
Next Production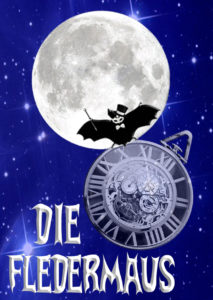 Sunday 20th November 2.30pm          
Settle Victoria Hall
Thursday 24th November 7.30pm       
Thornton Little Theatre
Friday 25th November 7.30pm            
Thornton Little Theatre
Sunday 4th December 2.30pm             
Kendal Town Hall
Friday 13th January 7.30pm                
Preston Charter Theatre
Die Fledermaus (The Bat) by Johann Strauss is probably the greatest and most popular operetta in the world.  It perfectly combines bubbling melodies with an hilariously, ridiculous plot.  From the first chords of the famous overture, to the final rendition of "Champagne" the bubbly flows at a hair-raising pace.
Three years previously Gabriel Esenstein dressed as a butterfly went to a fancy dress party along with his friend Dr. Falke, himself dressed as a bat.  In the course of the evening, Falke got extremely drunk and the pair left together.  Instead of seeing his friend tucked up safely in bed, Gabriel deposited him on a bench in the centre of town.  When he awoke the townspeople were already milling around on their way to work and Falke became the laughing-stock of the town.  This work should aptly be called "The Revenge of the Bat".
Falke organises a wild party at the home of a rich Russian aristocrat. To it he invites Gabriel, who is supposed to be in prison, his wife, disguised as a Hungarian, her maid, who is supposed to be visiting her sick aunt, and the prison governor.
Watch Gabriel get into deeper and deeper trouble.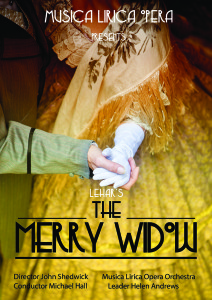 In May/June 2015 our highly successful mini tour of the Viennese classic, Lehar's The Merry Widow, took place at The Grand Theatre, Blackpool as well as at Lancaster's Grand Theatre and at Bingley Arts Centre.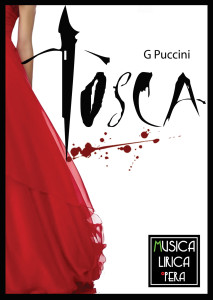 Followed in November 2015 by a tour of Puccini's Tosca with performances in Settle, Preston, Kendal and Blackpool.
click here for more info